Meron kaming 7 Pinoy production workers na kinaltasan ng 300,000won for cost departure insurance during their 1st 3months of work (100,000 each month). Ngayon ay matatapos na ang 3years stay nila dito by this coming 3rd week of May.

Saan ba pwede i-refund yung 300,000won?

Please advise
Board Member





Number of posts

: 867


Age

: 45


Location

: Jinju Kyeongnam Korea


Reputation :

3


Points :

541


Registration date :

31/03/2008



Dear Emart:
First of all, thank you for your question. Let me answer it according to
MOL Website "Insurance and Thrust Policy".
According to the policy, we can apply a
Lump-Sum Payment under Return Cost Insurance/Trust
due to an expiration of contract
. The Lump-Sum total payment will be determined by the Ministry of Labor so it is advisable for us to contact MOL directly.
MOL contact numbers: For more information, please call 82-1350 or 82-31-345-5000 (The Call Center of the Ministry of Labor).Please refer below for more details...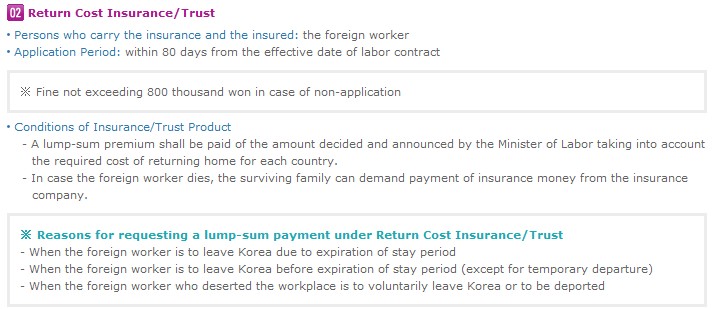 I hope this information will help your friends...
Sincerely,
misterdj
Last edited by misterdj on Wed Apr 02, 2008 10:36 pm; edited 1 time in total
FEWA - Administrative Adviser





Number of posts

: 1567


Location

: Incheon, South Korea


Cellphone no.

: 010-9294-4365


Reputation :

40


Points :

2299


Registration date :

11/02/2008



Board Member





Number of posts

: 867


Age

: 45


Location

: Jinju Kyeongnam Korea


Reputation :

3


Points :

541


Registration date :

31/03/2008



Emart wrote:Meron kaming 7 Pinoy production workers na kinaltasan ng 300,000won for cost departure insurance during their 1st 3months of work (100,000 each month). Ngayon ay matatapos na ang 3years stay nila dito by this coming 3rd week of May.

Saan ba pwede i-refund yung 300,000won?

Please advise
Hi Emart,

Ang Return Cost Insurance ay 400,000 won hindi 300,000 won
Ma claim mo yan if final exit ka na

Paano pumunta para mag claim?

Line # 2 green Euijiro (1) ilga Subway Station Exit # 1
Paglabas mo meron malaki building red color pasok ka ask mo security at ituro sa iyo unahan lng kunti ang KB bank nasa 8th floor ang SAMSUNG INSURANCE.
Maraming salamat- Reeve
Last edited by reeve on Sat Aug 23, 2008 7:26 pm; edited 1 time in total
Co-Admin





Number of posts

: 274


Age

: 32


Location

: Anyang City, South Korea


Reputation :

0


Points :

47


Registration date :

02/03/2008



Kabayang Reeve,

Talagang 300,000won lang kinaltas ng company namin which is for return cost insurance.

I think depende sa company. We have 5 company here in Korea. Ito kasing isang maliit na company namin ay nagkaltas ng 300,000won sa Pinoy. Pero dito sa ibang company namin ay hindi na kaltas ng return cost insurance dahil nagsubmit na ng waiver ang company admin namin na kayang kayang makapagbayad ng pambili ng ticket mga workers namin at guarantee nila iyon dahil sila bumibili ng ticket at kaltas na lang nila sa last salary ng Pinoy workers.

Thanks
Board Member





Number of posts

: 867


Age

: 45


Location

: Jinju Kyeongnam Korea


Reputation :

3


Points :

541


Registration date :

31/03/2008



Emart wrote:Kabayang Reeve,

Talagang 300,000won lang kinaltas ng company namin which is for return cost insurance.

I think depende sa company. We have 5 company here in Korea. Ito kasing isang maliit na company namin ay nagkaltas ng 300,000won sa Pinoy. Pero dito sa ibang company namin ay hindi na kaltas ng return cost insurance dahil nagsubmit na ng waiver ang company admin namin na kayang kayang makapagbayad ng pambili ng ticket mga workers namin at guarantee nila iyon dahil sila bumibili ng ticket at kaltas na lang nila sa last salary ng Pinoy workers.

Thanks

HI SIR,


According to the Employment Permit System INSURANCE GUIDE- It is mandatory for foreigners not having a Korean nationality and working , in business or workplace located in Korea with the purpose of earning wages to purchase the insurance


Category 1- China, Philippines, Indonesia, Thailand, and Vietnam should pay 400,000 won
Category 2- Mongol- 500,000 won
Category 3- Sri Lanka- 600,000 won

Note: Those who fail to purchase the Return Cost Insurance will be penalized ( 800,000-1,000,000 won)

Tnxs- Reeve
Co-Admin





Number of posts

: 274


Age

: 32


Location

: Anyang City, South Korea


Reputation :

0


Points :

47


Registration date :

02/03/2008



---
Permissions in this forum:
You
cannot
reply to topics in this forum